Ms. Sparky can install wall chargers for all types of electric vehicles, such as the Chevy Volt, Chevy Bolt, Nissan LEAF, and the BMW i models, and is a Tesla Certified Installer.
Before installing your electric vehicle charging station, an electrician from Ms. Sparky will do a site assessment and load calculation to determine if your existing electrical panel can support the charging station. If a main panel upgrade is required, we will install a solar-rated panel that can accommodate solar panels, should you choose to install them in the future.
Electric vehicle wall chargers are available online or from your vehicle's manufacturer.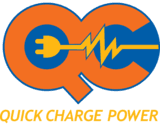 Ms. Sparky recommends chargers from
Quick Charge Power in San Marcos
. They offer a 10% discount to Ms. Sparky customers who use the code "ms sparky" at checkout.